Land A New Job With My
Proven

Framework…
My Tailor-Made, Battle-Tested Career-Boosting Framework Will Help You Get Unstuck, Market Yourself Effectively, And Find A Job That Makes You Feel Valued
"You could single handily replace career services and do their job at least 20 times better."
According to recent stats, only 20% of employees in the US are passionate about their job? And if you're reading this, it's safe to assume that you fall into that remaining 80% and would love a job that makes getting out of bed easier every morning. Right?
So, what's keeping you from landing a job that makes you feel valued?
Here's What Sabotages Most
Job Searches

…
No, there's no such thing as a "great-at-interviews" gene. And it's not the market or the pandemic. And, no, it's not because everyone else is lucky. It's because most people don't know…
✅ How To Market Yourself: connecting with potential employers, making a great first impression, showing confidence, and being seen as the right choice for employers
✅ How To Avoid Common Mistakes: those simple yet subtle things that can make or break your chances of landing a new job.
✅ How To Prepare Yourself: tossing and turning at night is not enough. You need to have a clear and effective process in place.
Lucky for you, I've helped everyone from college graduates to C-suite executives do exactly this and packaged all of the above (and more!) into a proven, repeatable framework, customized specifically for you.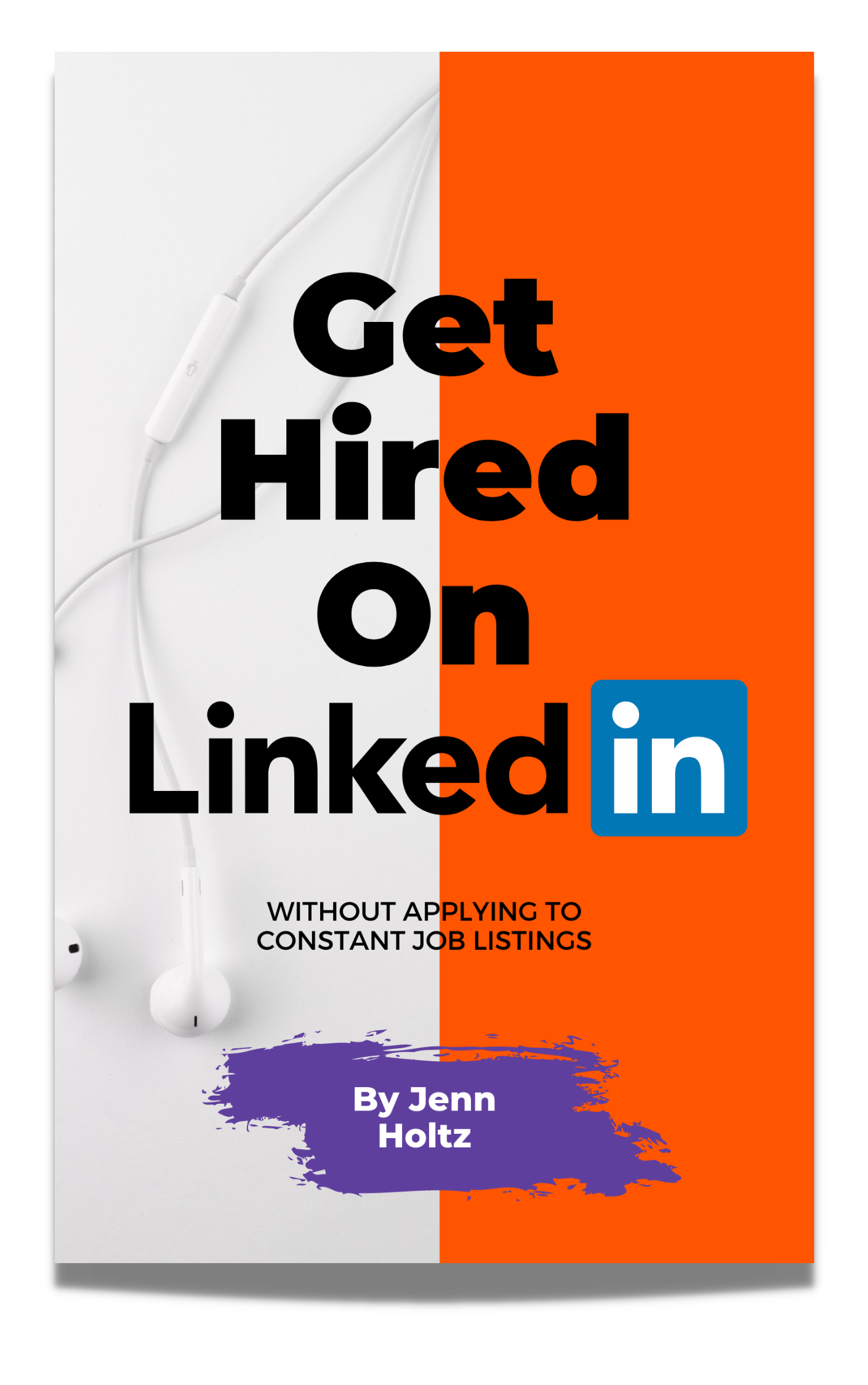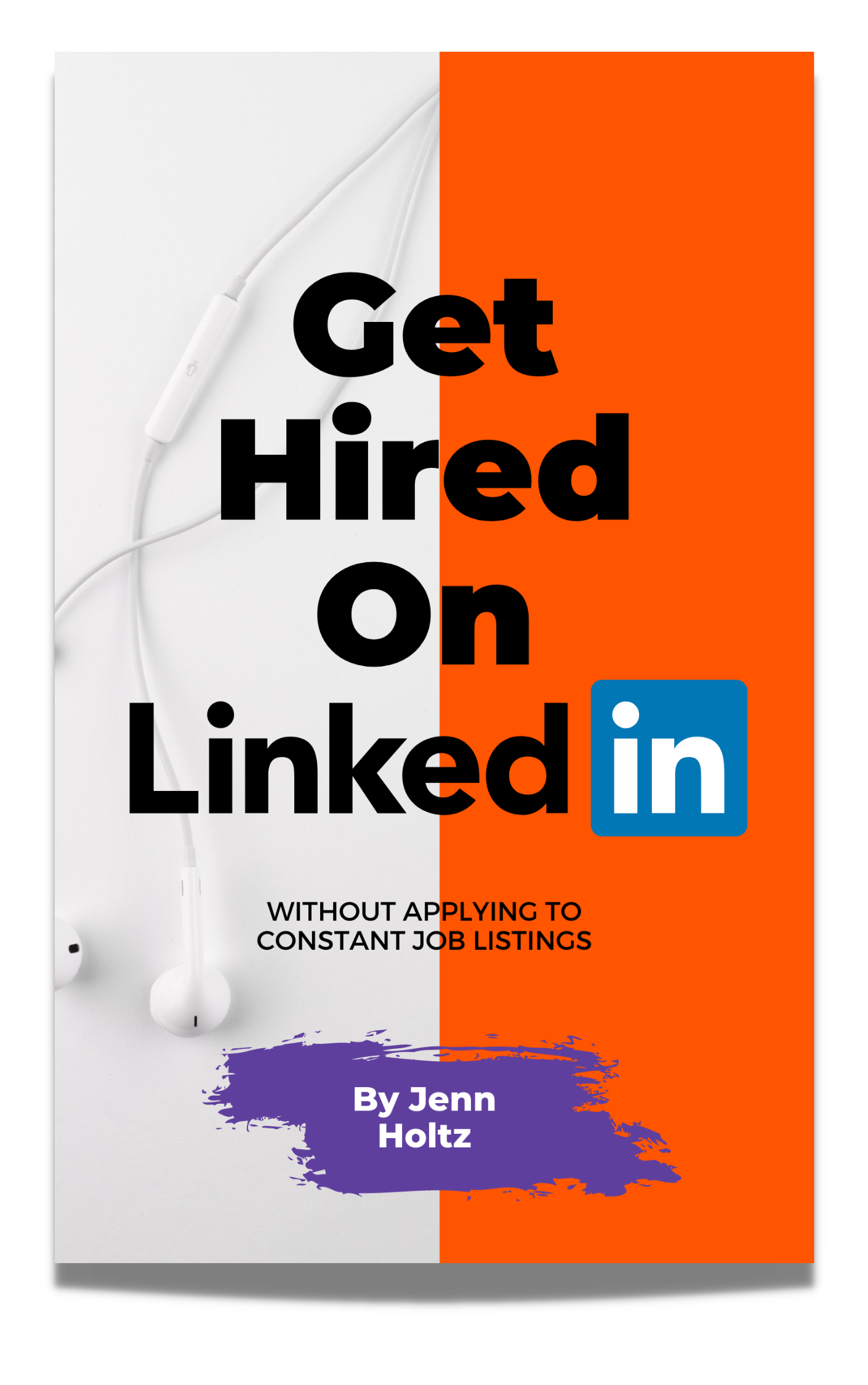 Want An Exclusive Sneak-Peek?
Get a head start in securing your new career with my "Get Hired On LinkedIn" guide and discover the common mistakes that could be stopping you from getting interviews and offers – And the best part?
It's 100% FREE!
Which Of These Best Describes
You
?

Empty inbox or constant rejection emails?
"Simply put – Jenn's edition of my resume got me interviews and eventually my job"
Mark Greenberg (CIO)
"You helped me get my life back!"
Sheri Prupis (Vice President)
"Jen offered insightful, honest, and actionable advice that has helped me land my dream job."
Julia Fish (Vice President)
"You really are doing 1000% more than the 4-5 headhunters who are supposedly assisting me with this expedited job search."
Robert Williams (Marketing Executive)
"One thing I like about Jenn's approach to professional development is how she helps her clients learn about themselves so they can confidently convey their strengths to potential employers. She really digs in and pays close attention to the details. If you want help finding employment, you will benefit from having her in your corner."
Guy Benson (Senior Attorney)
"With the help of Jenn and her Second Wind program, I successfully changed my career path and landed an exciting position with a company I admired. Jenn's program helped me focus my job search, become a better storyteller and embrace networking as a way to meet new people and find hidden job opportunities. A job search can be stressful and there's often disappointment along the way. Jenn continually provided advice, encouragement, and positive feedback, which helped me stay optimistic and committed to my goals."
Ryan Stalzer (Marketing Professional)
"Jenn is a breath of fresh air in this stale task of looking for meaningful work. I came away from our initial meeting with renewed vigor in not just resuming my job search, but in exploring a whole new vocation and creating a 'brand.' She goes the extra mile in researching and sharing relevant information, networking opportunities, and making connections. I highly recommend her services."
Tanya (Lawyer)
"Not only did Jennifer provide me with the analytical tools I needed to help me with the process of moving forward, but she also enabled me to see the potential locked within me that was being untapped due to fear."
Nanette (Budget Analyst)
"Jenn Holtz selflessly worked on my resume and answered all my questions; it looked amazing and really showcased all my skills very well. I was very impressed. She has given me an immense amount of career information and really strengthened my resume. I would like to recommend Jenn and her services. Thank you, Jenn!"
Kajal (Business Analyst)
"Jennifer provided me excellent guidance when I turned to her for advice on how to use my degree to enter into a new industry. She listened carefully to my goals and was able to successfully guide me in the right direction. With Jennifer's support, I was able to utilize my skills and land a job in a dream career. For anyone looking for career advice, Jennifer is the best choice out there!"
Yasmine Ashwal (Analyst)
"Jenn not only helped me edit my resume but she helped me think about the job application process and networking in an entirely different way. Jenn really listens to who you are and the experiences you've had and works with you to make you the best candidate for whatever you're hoping to achieve."
Jill (Sophomore, University of Virginia)
"You could single-handily replace career services and do their job at least 20 times better."
Briannie Kraft (2nd-year law student)
The Time To Invest In Yourself Is
Now
.
When it comes to finding the right job, time isn't always on your side! We never know what's around the corner and without building a strong network, you may eventually find yourself in a vulnerable position! So whether you're looking for a job now or you just want to make sure you're set up and ready for future opportunities, take that first step today!